Really, beer pizza dough, what's that all about?  I found this recipe in Cooks Country magazine for skillet suppers.  My first thought was pizza in a skillet, that's interesting, but then after reading the recipe I see that the dough is made from beer. Ok, I get it, the yeasty beer replaces the water and actual yeast in the dough, but would the dough have that beer flavor? Would it actually rise? Would it taste good?  Well the answers are no, no and yes.
Making this dough is quick and easy.  Just get your food processor out; you can use a little one because this recipe is for two servings.  Add your dry ingredients, whirl a few seconds then add the beer and olive oil, whirl again and your done.  Really quick, right.
What I noticed right away was that wonderful yeasty smell you get when making yeast bread.  The dough was nice and soft with some elasticity to it.  After resting for 10 minutes, there was a slight rise to the dough, but since the dough is leavened with baking powder, it doesn't give it the big rise normally achieved with yeast.  The beer really is used as a flavor enhancer, it brings the yeasty aroma to the dough.  So since the dough doesn't rise much, what you get is a nice thin, crispy crust.
So I hear ya, if I'm only using 1/3 cup of beer what should I do with the rest?  Well, you can make another batch and freeze the dough for up to a week, which isn't very long, or do as I did, and drink it while cooking the pizzas.  Either way works!
Let's make pizza:
'Servings – 2
The dough ~
1 cup AP flour
1/2 tsp. baking powder
1/2 tsp. sugar
1/2 tsp. salt
1/3 cup beer (a brown ale is best like New Castle)
1 tbls. olive oil + additional for the skillet
The toppings~ 
2 plum tomatoes, cored, seeded and chopped
1/2 tsp. salt
3/4 cups mozzarella cheese, shredded
1/3 cup Parmesan cheese, grated
1/2 cup chopped basil
1.  Before making the dough, toss the tomatoes in the salt, then place in a strainer for 15 minutes.
2.  Combine the flour, baking powder, sugar and salt in a food processor.
3.  Add in the beer and olive oil and process until the dough pulls away from the sides and forms a ball.
4.  Remove the dough and form into a ball (may need to flour your hands), cover loosely with plastic wrap. Let rest for 10 minutes.
5.  Divide the dough half and roll each half into a 9 – inch round on a lightly floured surface.
6.  Heat 2 tbls. of olive oil in a large skillet over medium heat.
7.  When the skillet is hot place one round of dough into the skillet and cook, poke air bubbles with a fork, and cook until the bottom is a golden brown and crisp, 3-4 minutes.
8.  Flip the dough and sprinkle with the drained tomatoes, cheese and basil.
9.  Reduce the heat to low and cook, covered, until second side is brown and crisp and the cheeses have melted, about 5 minutes.
10.  Transfer to a cutting board, wipe out pan and repeat with second dough round.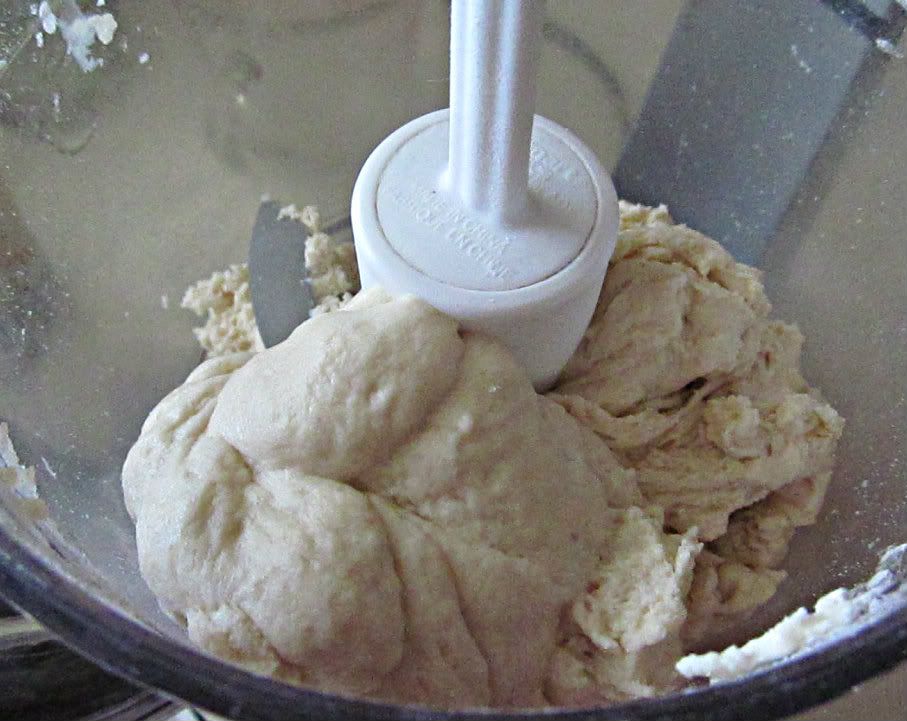 This dough is a snap to make.  Bring it together in the food processor, roll into a ball and let it rest, then roll it out nice and thin to fit in your skillet.

Here's the dough in the skillet, pop the air bubbles so the dough stays flat, turn it over with cooked, then add your drained tomatoes and cheese.
Here is pizza number one for me, very simple and rustic.  Pizza number two for the person who likes a more traditional pizza, sauce and cheese.  Both were yummy!